Two-Rivers Ottauquechee Regional Commission (TRORC) has released a dynamic map showing work around Vermont to acquire homes and other buildings in the high risk Special Flood Hazard Area to reduce damage from flooding or respond to substantial damage.
This map, composed by Pete Fellows, TRORC GIS Manager and Planner, uses fusion tables to provide updated information on the status of this effort.
As result of spring flooding in 2011 on Vermont rivers and Lake Champlain as well as Tropical Storm Irene in August of that year, TRORC is assisting with the FEMA-HMGP buyout of over 130 residences as well as coordinating the HUD-CDBG match portion. Future development will be restricted on these sites. For more information, please contact Kevin Geiger at TRORC.
The map shows four status levels: Completed, Almost Done, Issues, and Committed but just beginning.
The Application Status menu allows one to select the current status of the buyouts across the state.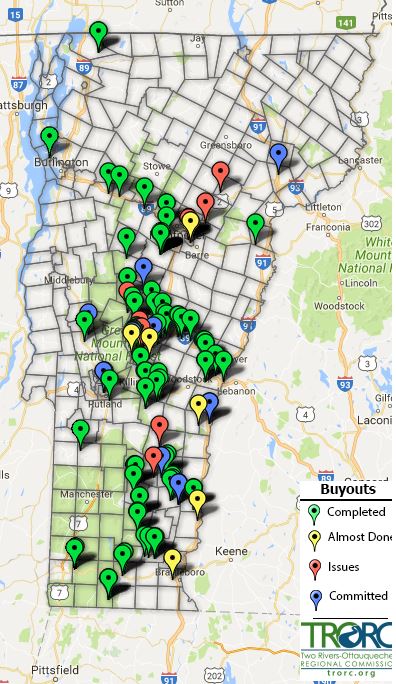 The acquistions are primarily funded through FEMA's Hazard Mitigation Assistance Program. Important matching funds have also been secured from the Housing and Urban Development Agency's Community Development Block Grant program (CDBG - DR).