Flooding in the past, flooding in the future
"We all have short memories when it comes to flooding. It's just human nature to think it couldn't happen here again anytime soon."
-Chris Campany, Director Windham Regional Planning Commission.  
Links to sections below:
Why act now?

State assistance increases when you act
Weather is intensifying
Planning ahead avoids crisis and cost
Mitigation funds come to those who plan
The best solutions may not be available in the future
Tropical Storm Irene lives vividly in our memories. 
We all know people whose lives were turned upside down. Homes washed away. Bridges and roads were decimated. The costs for a small state were immense – about $63 million in insurance claims, $153 million in state and local costs, and a staggering $603 million in federal outlays – all from one storm.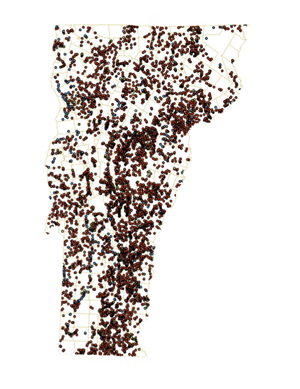 The costs were unprecedented in this small state; but the flooding was anything but.
Since 2000, Vermont has had more than one federally-declared disaster per year.    
Floods have occurred nearly everywhere in the state. This map of past infrastructure repair and replacement projects funded with a combination of federal and local recovery funds shows that very few areas have escaped disruption and damage.
There are many steps that can reduce the risks in your community, and the loss, disruption and repetitive costs that may occur. Many towns are already taking these steps.
Why act now?
With Irene just behind us, most community leaders know they need to understand and address flood risks, but how and when? With so many important town issues to work through, can this wait until next year? Acting now is important because:
#1:  State assistance increases when you act
Your community relies on federal Public Assistance grants to repair damage after flooding. The State of Vermont has a fund that contributes. After October 23, 2014, communities will get a higher level of state funding if they have taken basic steps to avoid damage. Find out about the fund, and create a report that shows where your community stands on eligibility for state assistance.  
#2:  Weather is intensifying
In the last 50 years, severe storms have gotten more common in Vermont and across the Northeast. While the future is not fully predictable, current models of climate change suggest this trend will continue. We need to take careful steps to ensure that our village centers and downtowns can thrive as more water rains down more often.
#3:  Planning ahead avoids crisis and cost
Most communities in Vermont have numerous issues to address on the path to flood resilience. Culverts are undersized. Emergency services are located in flood hazard areas. Wells and water distribution pipes sit next to or even in the river. Across the state, there are 10,000 buildings in hazardous locations, and these buildings need to be made safer and more affordable to insure. 
Addressing local flood risks now and creating a prioritized list of actionable tasks is the smartest way to prevent a crisis.
Even when towns aren't ready to do a full-scale plan, a single, well-planned project -- like upsizing a bridge, or moving a school out of harm's way - can make a big difference. Any action is a smart budgetary investment, and that can help to protect public safety and avoid the astronomical costs of fixing damage after it occurs. 
#4  Mitigation funds come to those who plan
Vermont has received $40 million in federal Hazard Mitigation Grant Funds just since Irene. These funds have helped towns buyout homes in risky locations, relocate historic structures, elevate buildings subject to repetitive flooding, and replace undersized culverts that bottleneck floodwaters. 
This critical source of funding for making buildings and infrastructure flood ready is only available to towns that have an approved Hazard Mitigation Plan.
#5  The best solutions may not be available in the future
Protecting our intact floodplains and river corridors is the single most cost effective way to prevent future flood damage. When we protect these critical areas we give rivers more room to spill over their banks and release their energy when severe storms occur. Over time, rivers connected to their floodplains become rivers less prone to catastrophic flooding.
Your community can invest in its future flood resilience by avoiding development in floodplains and river corridors wherever possible and assuring that anything that needs to happen causes no adverse impact. Protect these assets - because they protect us all.
Get started! Here's what your community can do right now to prepare for the next flood:
All over Vermont, towns are taking these actions. Learn about their stories and how they are making their communities flood resilient.