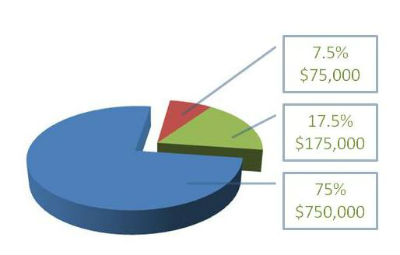 The Emergency Relief and Assistance Fund (ERAF) provides State funding to match Federal Public Assistance after federally-declared disasters. Eligible public costs are reimbursed by federal taxpayers at 75%. For disasters after October 23, 2014, the State of Vermont will contribute an additional 7.5% toward the costs. For communities that take specific steps to reduce flood damage the State will contribute 12.5% or 17.5% of the total cost.
Links to sections below:
From Jeb Spaulding, Secretary of Administration January 2014
12.5% - eligible communities have adopted four mitigation measures:
National Flood Insurance Program (participate or have applied);
Town Road and Bridge Standards (adopt standards that meet or exceed the 2013 template in the current: VTrans Orange Book: Handbook for Local Officials);
Local Emergency Management Plan (adopt annually after town meeting and before May 1);
Local Hazard Mitigation Plan - Adopt a FEMA- approved local plan (valid for five years). Or, a draft plan has been submitted to FEMA Region 1 for review.
17.5% - eligible communities also:
Protect River Corridors from new encroachment; or, protect their flood hazard areas from new encroachments and participate in the FEMA Community Rating System. ERAF 17.5% Criteria
After a declared disaster the damage to public infrastructure including roads and culverts may approach a million dollars. Here is how the cost of damage will be carried by federal, state, and municipal taxpayers:
|   | 7.5% ERAF Rate | 12.5% ERAF Rate | 17.5% ERAF Rate |
| --- | --- | --- | --- |
| Federal Share | $750,000 | $750,000 | $750,000 |
| State Share | $75,000 | $125,000 | $175,000 |
| Municipal Share | $175,000 | $125,000 | $75,000 |
| Total | $1,000,000 | $1,000,000 | $1,000,000 |
Get a report on what actions your community has taken to qualify for higher levels of post-disaster financial support through ERAF.
How do we update our bylaws to protect River Corridors and participate in the National Flood Insurance Program?
Contact the VT DEC Floodplain Manager for your region and your planner at the Regional Planning Commission or a consulting planner.
How do we update and certify our Town Road and Bridge standards? 
The current VTrans Orange Book is online. The  VTrans District Project Managers contact each community around January each year. Select Boards adopt or later certify the community's road standards. Contact information for the correct VTrans District Project Manager can be found on the on the Municipal Road and Bridge Standards Summary Report.
How do we adopt an approved Local Hazard Mitigation Plan?
Support for your Local Hazard Mitigation Plan (LHMP) is available through the Regional Planning Commission and other consulting planners.
How do we update our Local Emergency Mitigation Plan?
The Local Emergency Management Plan (LEMP) should be updated after Town Meeting and before May 1. Contact your Regional Planning Commission.
Vermont Emergency Management (VEM) manages Public Assistance funding and tracks the eligibility of individual municipalities for the State of Vermont ERAF matching funds.  
The Community Reports on Flood Ready Vermont reflect the current data from the primary agencies responsible for the information.  Please be sure to route questions or updated information through the right contacts.  More is here on How ERAF Data are Updated.
Flood Damage Mitigation Incentives for Municipalities under the New ERAF Rule, Milly Archer, VLCT - Summary of ERAF from Nov. 2012 Vermont League of Cities and Towns newsletter.
Full Text of ERAF rule   Link to Rule on Lexis
Memorable link to this page: tinyurl.com/erafvt
Map of ERAF Rates across Vermont - available on the Flood Ready Atlas tinyurl.com/floodreadyatlas 
Handouts about ERAF and steps for flood resilience.