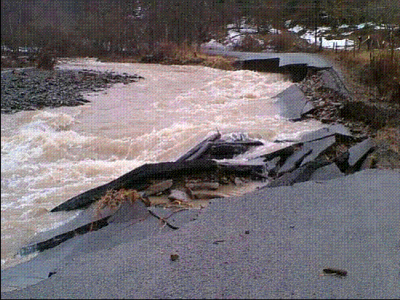 Several sources of funding may become available after a disaster. The most important source of support for municipalities is federal Public Assistance (PA).
Links to sections below:
In the event of a disaster, municipal officers should notify:
1. The Vermont Division of Emergency Management and Homeland Security at 1-800-347-0488 Vermont Local Situation Report
2. The Regional Agency of Transportation District Administrator.
District 1 Bennington 802-447-2790
District 2 Dummerston 802-254-5011
District 3 Rutland 802-786-5826
District 4 White River Jct. 802-295-8888
District 5 Colchester 802-655-1580
District 6 Berlin 802-828-2690
District 7 St. Johnsbury 802-748-6670
District 8 St. Albans 802-524-5926
District 9 Newport 802-334-7934
In the event of loss from a disaster, report all damages to DEMHS as quickly as possible in order to receive a determiniation from DEMHS and VTrans as to whether the damages qualify for federal assistance.
Use your Local Emergency Operations Plan.
The single most important source of post-disaster funding for municipalities is federal Public Assistance (PA) administered by FEMA after a federally-declared disaster. PA funding covers at least 75% of qualified damage to public assets such as roads and culverts. As of 2014 the Public Assistance Program in Vermont is managed by the State Public Assistance Officer at the Department of Emergency Management and Homeland Security. This includes all PA project and financial management.
After a disaster it is important to keep good records. Photograph and document losses and costs. Initially this will help inform the preliminary damage assessments. Later, the records will be needed to support applications for assistance as available. Keep good records in all cases. In some circumstances insurance may cover part of the loss and a PA project grant may help cover the remainder.
Current Federal Disaster Declarations - Identifies the kinds of assistance that are available such as Public Assistance (PA) and Individuals and Household Program.
Federal Disaster Process & Disaster Aid Programs - Describes the response and recovery process for a major disaster.
Federal Public Assistance – (FEMA PA) - Overview of the federal disaster grant assistance available to state, tribal and local governments and certain types of private non-profit organizations.
Federal Individual and Households Assistance – (FEMA IHA) - This is a site for individuals seeking assistance after a disaster and links to additional resources including loans through the Small Business Administration.
FEMA Hazard Mitigation Grants (HMGP) - These federal grants are available after a disaster to help reduce (mitigate) the impact of future disasters. These grants are available in communities that have a Local Hazard Mitigation Plan and can provide up to 75% of qualified project costs.
The Vermont Emergency Relief and Assistance Fund (ERAF) supplements federal Public Assistance. After October 23, 2014, communities that have already taken specific mitigations steps will be eligible for 12.5 % or 17.5% funding from the State. Look up your community's ERAF reimbursement rate.
VTrans offers assistance to municipalities before, during and after disaster events that affect town highways. This support is described in Section 6 of the VTrans Orange Book and includes: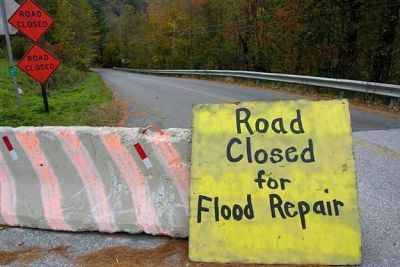 Damage to town roads, culverts and bridges during flood events are the predominant public losses from natural disasters in Vermont. To avoid such losses, and to keep our roads open during emergencies, Vtrans provides recommended Municipal Road and Bridge Standards. Part of the standards address culvert sizing and in particular the standards for crossing streams and rivers.
A structure crossing a stream or river needs a permit from a DEC River Management Engineer confirming that the span will accommodate at least 1.2 times the bank full width and not obstruct geomorphic equilibrium. See Roads and Culverts for more on reliable roads. Any structure replaced after a disaster must meet this standard. It is important that the community's road and bridge standards meet this criteria or Public Assistance may not reimburse the difference between what was there (typically under-sized) and the replacement structure.
VTrans administers the Federal Highway Administration's Emergency Relief (ER) Program (See Orange Book p.6-6) support for specified Federal-Aid Highways including some maintained by municipalities. These roads are typically built to a higher standard than most municipal roads and experience less damage. Work through DEMHS and your VTrans District Administrator regarding these funds.
Homeowners' insurance will not cover losses due to flooding. Flood insurance can help cover the cost of damage to buildings and their contents from the effect of overland flow. Flood insurance through the National Flood Insurance Program (NFIP) is available anywhere in a community that participates in the program.
Flood insurance needs to be acquired before the disaster. In most circumstances insurance through the NFIP goes into effect thirty days after the check clears and will not cover a disaster-in-progress at the time of purchase. On the other hand, NFIP flood insurance will pay out for damages if only two properties are affected by overland flow. It does not require a disaster declaration.
After a loss, an insured structure in the Special Flood Hazard Area can also access $30,000 in funding to help meet the Increased Cost of Compliance (ICC) by elevating, relocating, demolishing, or flood-proofing as needed to comply with community hazard regulations.
In Vermont many municipalities secure insurance for themselves through the Property And Casualty Intermunicipal Fund (PACIF) program offered by the Vermont League of Cities and Towns (VLCT). PACIF covers flood losses for municipal structures. Contact VLCT for more information.
Municipalities should plan to safely locate irreplaceable legal and historic documents and artifacts. Insurance cannot cover lost services during an emergency but it can help defray the loss to municipal buildings, contents and equipment.
After a disaster other sources of funds may become available. Often there are private fund-raising initiatives for local needs. In certain cases private foundations may make funds available or help manage grants.
Information regarding Irene Recovery funds can be found at Vermont Disaster Relief Fund (VDRF).
The Federal Housing and Urban Development Program offers annual Community Development Block Grants (CDBG) and after Irene the program released Community Development Block Grants – for Disaster Recovery (CDBG – DR). Contact ACCD for more information. Of particular importance: CDBG funds can be used to match the federal portion of FEMA Hazard Mitigation Grants.
Artists and artisans may be able to get support after a disaster from Craft Emergency Relief Fund/Artists Emergency Resources (CERF+). CERF+ support is not contingent on a declared emergency and can respond to the circumstances of the artist or craftsperson. CERF+ accomplishes its mission through direct financial and educational assistance to craft artists including emergency relief assistance, business development support, and resources and referrals on topics such as health, safety, and insurance. CERF+ develops, promotes, and maintains resources for emergency readiness and recovery that benefit all artists. CERF+ also advocates, engages in research, and backs policy that supports craft artists' careers.
CERF+ Studio Protector Tip of the Month