The Vermont Flood Ready Atlas is an online-map tool that can help you identify critical facilities, transportation services and buildings in your community that are at risk of damage from flooding. The Atlas can also help you identify local watersheds and the extent of natural flood protection provided by forests, wetlands, floodplains and river corridors.
The Vermont Flood Ready Atlas allows you to easily find data about your community and watershed. Nonetheless, you may want to refer to the Tips and Tricks section below to get your bearings. If you have any questions, ideas or problems – let us know! Thank you. 
Links to sections below: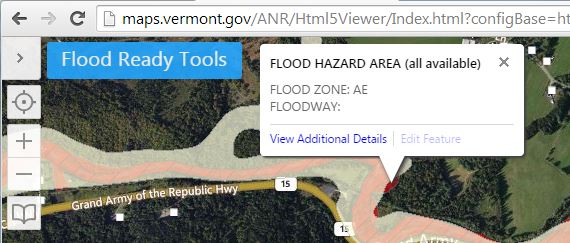 Click here to explore the atlas in full screen.  Memorable link direct to the Atlas: tinyurl.com/floodreadyatlas
To print the map, your browser must allow popups.

The Flood Ready Tools button is a good place to start. From this button you can find your town, change what map layers are displayed and print the results.

You can also change the Base Maps (aerial photos, topographic maps, etc.) and access a Tool Set to navigate, draw or get information about the data.

You can see different kinds of mapped data as layers. Get to the layers through the Flood Ready Tools button by clicking on Change visible map layers, or by clicking the Layers Arrow button. 

There are several sets of Map Layers.
Flood Ready Map Layers include:
National Flood Insurance Program – participation
Local Emergency Operations Plans – current status
Making it Happen – what Vermonters around the state are doing to become flood ready
Flood Hazard Mapping – the kind of flood data available now
Watershed Boundaries – the area uphill that collects water
Regional Planning Commissions – and member communities
Below the Regional Planning Commissions map layer has been clicked and is displayed.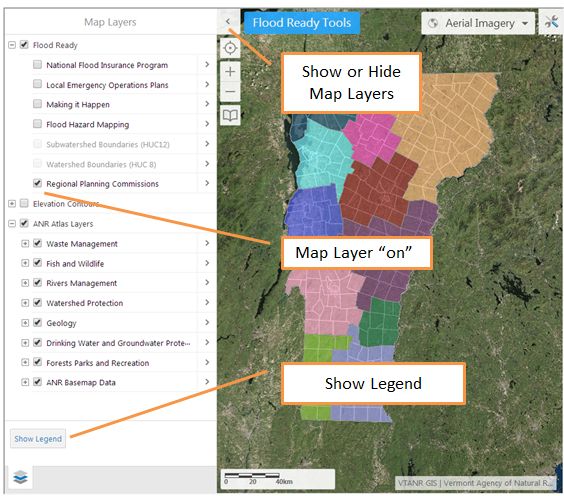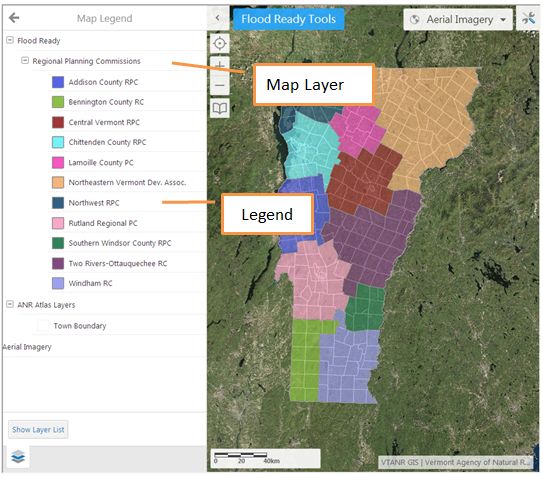 Can I print a map?
Yes, choose Create a Printable Map from the Flood Ready Tools button.
Can I send a map to someone by email?
Yes, choose Create a Printable Map from the Flood Ready Tools button and select PDF from the output options. Save this to your computer so you can attach it in an email. 
How do I find out more about the data?
Visit the ANR Agency Maps and Mapping page. The background on some of the data is available online at the FEMA Map Service Center (look under All Data and Studies) or at FEMA's NFHDL page.  
Can I get this on a smart phone?
Yes, you can search for the ArcGIS app for smartphones and tablets and then from the app look for VTANR Natural Resources Atlas.
What is the direct address to the Vermont Natural Resource Atlas?
The Vermont Natural Resource Atlas has several different specialized versions on two platforms (Silverlight and HTML5).
Here is a link to the main version of the Vermont Natural Resource Atlas using Silverlight. You can also find the Atlas from www.maps.vermont.gov 
The Vermont Flood Ready Atlas is built on HTML 5. Here's a shortcut to remember: tinyurl.com/floodreadyatlas.
The Floodplain Management Atlas (on Silverlight) can be found at tinyurl.com/vt-floodmap.
How do I learn more about the Vermont Natural Resource Atlas?
Visit the ANR Agency Maps and Mapping page.
More FAQ on the Vermont Natural Resources Atlas
About half of the flood hazard data in Vermont has been officially digitized. Officially digitized data is available online on the Atlas. In other locations the official map is still on paper or a .pdf scan of the paper. If you don't see Special Flood Hazard Area data in your community, double check the Flood Hazard Mapping layer to see what is available. The Expanded Community Report also includes information on the type of flood hazard map available in your community.
Effective Digital Flood Insurance Rate Map (DFIRM) data – is available on the Vermont Flood Ready Atlas. Find it under in the Watershed Protection Layers. The data includes Special Flood Hazard Areas, Floodways, Cross-Sections, and Panels.
Flood Insurance Rate Map (FIRM), not digitized – is only available on paper at the municipal office or online as a .pdf version through the FEMA Map Service Center. From the Map Service Center you can create a small but official "FIRMette".
Rough Digital data – is FIRM data available (as above) at the municipal office or online at the FEMA Map Service Center. In these communities however a rough non-official digital computer version is available. These maps cannot be used for municipal regulations or insurance purposes but they are generally helpful to understand the mapped areas at a town-wide or watershed scale. On the Expanded Community Report the "Rough Digital Data" is labeled "Vector".
Unknown – some communities' flood hazards have not been mapped yet. There may be non-FEMA data available. In most communities there are some flood hazard areas that have not been mapped yet.
In all communities there may be additional data regarding flood hazards as provided by other federal agencies.  Look on the Flood Ready Resources page and contact your ANR Floodplain Manager for more information.
The image below shows some of the officially digitized DFIRM (Digital Flood Insurance Rate Map) data available on the Atlas.

 By clicking on the map or by using Identify by Rectangle you can click on a location and get a summary of the related information.
Special Flood Hazard Areas include areas on the DFIRM data as Zone A, Zone AE and Zone AO. Floodways are a part of the Special Flood Hazard Area. On older maps the Special Flood Hazard Areas may be labeled Zone A, Zone AE, Zone 1 - 30 and Zone AO. For more information on Special Flood Hazard Areas please see Floodplains.

Statewide River Corridors
River corridor maps were posted on the Flood Ready Atlas on 1/2/2015.  This is the first time that river corridor data has been available statewide.
Here is more more infomation on GIS access to the river corridor data.
VT DEC is working to incorporate Phase 2 geomorphic data into the River Corridor maps.  This process will begin where the data has already been developed. As the maps are updated with Phase 2 data they will be posted on the Atlas.
More information: Floodplains, River Corridors. and River Corridors - Frequently Asked Questions.
Did you find what you needed? Please let us know if you have questions.
If you find any bugs please tell us what browser you're using and the browser's version. Screenshots can be helpful, along with any other details to help us recreate what you experienced. Your feedback will help us improve the tool.
Use the tools on the Community Reports page to learn more about your community's risk and what it has already done to become flood ready. Beyond the reports, there are other Map Tools that may be helpful. Some kinds of analysis can only be done with the support of a computer Geographic Information System (GIS) as available through your Regional Planning Commission.
Memorable link direct to the Atlas: tinyurl.com/floodreadyatlas