Your community will need to work together to reduce future flood damage and to qualify for grants and more post-disaster financial assistance. If flood resilience is your intention – plan your work and work your plan. 
A useful Flood Resilience Checklist for Vermont Communities has been produced by the Vermont Department of Housing and Community Affairs.  This tool helps you take stock of what your community has done and can do for disaster risk reduction. 
On this page you can learn about the types of plans that your community may need and how they relate.
For examples of how community leaders reached out to residents, protected river corridors, and became more flood resilient: visit www.floodtraining.vt.gov
Links to sections below:
Vermont communities use several related plans to assess their needs and prioritize their actions. The Municipal Plan is required in state statute and sets out the shared intentions of the community for all of its efforts. The Local Emergency Operations Plan, Local Hazard Mitigation Plan and other documents play important roles as well.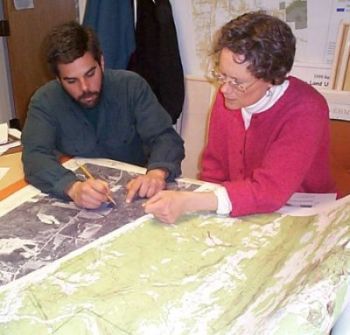 The Municipal Plan is described in 24 VSA Chapter 117 and must be updated every eight years. The Municipal Plan describes the community's goals and how the community will work together to prioritize, fund and make the changes. Any plan updated after July 1st, 2014 must include a flood resilience element. 
Your community needs a Local Hazard Mitigation Plan (LHMP) to qualify for FEMA Hazard Mitigation Grants. These funds can help your community reduce its current flood risks before there is damage or injury. Also, more post-disaster funding is available through ERAF for communities that have a LHMP in place and have taken three additional steps to reduce flood damage. The LHMP addresses flooding, winter storms, earthquake and other hazards and identifies the concerns and priorities in your community. We have resources to help you update your LHMP plan for flooding.
The Local Emergency Operations Plan (LEOP) is updated annually after town meeting and identifies the roles and responsibilities of local officials and first responders during an emergency.
Check to see if your plans are up-to-date on the community reports page. 
Plans can take time to update so it is important to secure the funding and block out sufficient time to meet the deadlines. Contact your regional planning commission to identify grant funding and other resources to support the planning process.
Use the resources on this site to update the flood resilience element of your Municipal Plan, Local Emergency Management Plan, and Local Hazard Mitigation Plan.

Municipal plans that are approved by the Regional Planning Commission allow the community to qualify for Municipal Planning Grants, an important source of funding. The community may request that the Regional Planning Commission review and approve the plan. The Commission needs to find that the plan (including the flood resilience section) is consistent with the goals in statute and compatible with other municipalities in the region.
Like the municipal plan, it is best if the Local Hazard Mitigation Plan (LHMP) is developed by the Planning Commission with support from a professional planner. FEMA encourages communities to integrate the LHMP into the comprehensive Municipal Plan. To qualify for FEMA grants the LHMP must be adopted by the community and approved by FEMA. The draft LHMP is routed to FEMA through the Vermont Department of Emergency Management and Homeland Security (DEMHS). There are often several drafts before a text is ready for adoption ("approved pending adoption"), is adopted by the community, and then gets formal approval by FEMA.
After Town Meeting and reorganization the Select Board can officially approve the Local Emergency Management Plan (LEMP). This plan can be prepared by town staff or a regional planner. The LEMP is updated each year after Town Meeting.
There are other types of plans that may inform your municipal plan.  Your community may also expand the framework of the municipal plan to address flood recovery or how to reduce greenhouse gases and adapt to climate shifts and stressors.
Water Quality Basin Tactical Plans - Watershed wide plans addressing land use impacts on water quality.
River Corridor Plans - Detailed physical assessments of particular rivers to identify stressors, assets and priorities. (Click on "Final Reports").
Culvert Inventories and Geomorphic Assessments - Some culvert inventories collect information not only on the size and condition of existing culverts and bridges but also how they match with the bank-full width of the stream, how they are likely to fail, and whether they are compatible with the movement of fish and stream life.
Flood Emergency Response Plan - This plan identifies specific communication actions, critical populations, and evacuation procedures to be used before and during a flood emergency.
Flood Emergency Assessment and Improvement Plan - This plan identifies the staff, equipment, and training needs of first responders in order to protect public safety during a flood emergency.
Post-Flood Recovery Plan - This plan becomes critically important during the post-disaster chaos.  The plan directs how the community will become more flood resilient after substantial damage. It addresses substantially-damaged critical infrastructure, and directs government investments and new construction to safer places.