Your Municipal Plan includes several sections required under state statute. For plans adopted after July 1, 2014, communities need to address flood resilience. For many communities this is the first time the topic has come up. Here are some resources to help you.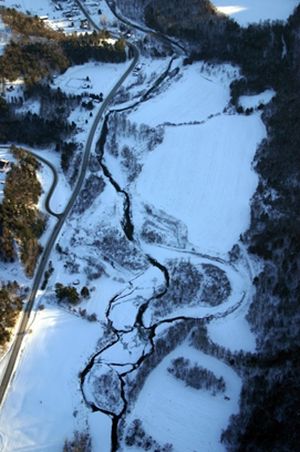 Links to sections below:
The Simplified Approach to Planning for Flood Resilience tool suggests a way to easily identify key goals, data and opportunities for your community to reduce risk of damage from flooding and to qualify for more post-disaster funding.
Back to Top
What is required in statute?
The goals §4302 and elements §4382 of municipal development plans are established in Vermont State Statute 24 VSA Chapter 117. In 2013 Act 16 established a goal to encourage flood resilient communities.
24 VSA Chapter 117 §4302 PURPOSE; GOALS

(14) To encourage flood resilient communities.

(A) New development in identified flood hazard, fluvial erosion, and river corridor protection areas should be avoided. If new development is to be built in such areas, it should not exacerbate flooding and fluvial erosion.

(B) The protection and restoration of floodplains and upland forested areas that attenuate and moderate flooding and fluvial erosion should be encouraged.

(C) Flood emergency prepardness and response planning should be encouraged.
To support the overarching goal of flood resilience, Act 16 added subdivision (12)(A) to the plan for a municipality as effective July 1, 2014. §4382
(12)(A) A flood resilience plan that:

(i) identifies flood hazard and fluvial erosion hazard areas, based on river corridor maps provided by the Secretary of Natural Resources pursuant to 10 V.S.A. § 1428(a) or maps recommended by the Secretary, and designates those areas to be protected, including floodplains, river corridors, land adjacent to streams, wetlands, and upland forests, to reduce the risk of flood damage to infrastructure and improved property; and

(ii) recommends policies and strategies to protect the areas identified and designated under subdivision (12)(A)(i) of this subsection and to mitigate risks to public safety, critical infrastructure, historic structures, and municipal investments.

(B) A flood resilience plan may reference an existing local hazard mitigation plan approved under 44 C.F.R. § 201.6.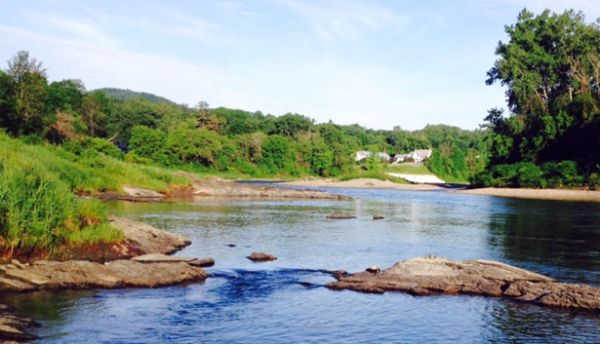 Probably both. Certainly as a new component of the municipal plan it would seem best to clearly describe the situation in the community, be clear about the community's goals and the recommended policies and strategies. Ultimately the various sections need to influence each other and work together toward the same goals.
The municipal plan should integrate the learning from all other work in the community (including the Local Emergency Operations Plan, the Local Hazard Mitigation Plan, and the Capital Program) to become a flood resilient community.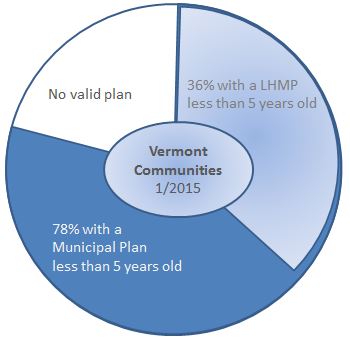 Municipal plans are needed by the community to update and enforce regulatory and non-regulatory tools. Local Hazard Mitigation Plans (LHMP) are required to qualify for grants through FEMA's Hazard Mitigation Assistance Program.
Most communities have a municipal plan, and the update process is familiar. The Local Hazard Mitigation Plan process is still fairly new and until recently many communities have not had such a plan. The review process with the LHMP is rigorous and can sometimes take several changes to a draft and well over a year.
The Local Hazard Mitigation Plan may address several hazard concerns in your community in addition to flooding and erosion. When reviewing draft Local Hazard Mitigation Plans, FEMA looks to see wide public participation and incorporation of the work into the municipal plan. Under Vermont statute a municipal plan may reference an effective LHMP. Also, a community may adopt hazard area regulations under the authority of the municipal plan or an effective LHMP.
As your community begins to integrate your hazard mitigation work into your municipal plan, these two efforts will become more integrated and effective.
1. Assess the community problems and also identify what's working.
Use the resources here to clearly identify your community's problems and flood protection assets.
Identify your goals and plan your actions.  This is your community planning work.
2. Protect or restore what is working to moderate flood impacts.
Update your bylaws, road and bridge standards, non-regulatory incentives, and capital program to protect river corridors, floodplains, watershed conditions and manage storm water.  Direct future development toward safer places.  This is your community's regulatory and non-regulatory/incentives work.
3. Reduce the current risk.
Direct future development toward safer places. Restore impaired corridors and floodplains. Adapt culverts, bridges, critical facilities and historic buildings.
4. Prepare for the emergency.
Do you have a functional flood response plan?  What information, staffing, training and/or tools are needed to make this effective?  How will the community direct investments in the aftermath of the next disaster?
5. Insure residual risk.
Is the community qualified for the best post-disaster recovery funding? Are residents accessing flood insurance?
Here are resource links to help you prepare your flood resilience plan: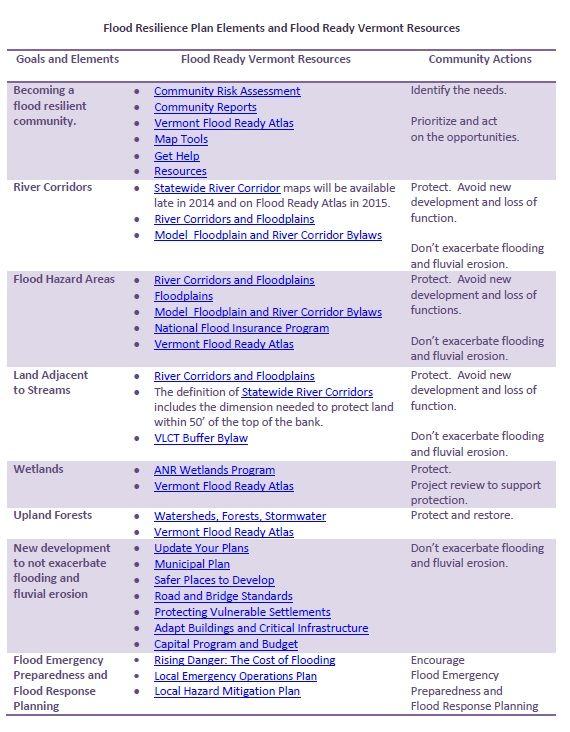 As you work on your municipal plan and your flood resilience element, remember you are not alone. Get support from your Regional Planning Commission and/or a consulting planner. Reach out to the community and share your thoughts and questions with other community planners on the Flood Resilience Listserve.
You may also find critical information and guidance from the organizations and agencies listed on the Get Help pages.