The municipal plan expresses the shared goals, objectives and priorities of your community. It allows the community to work together in coordination with nearby communities, the region and the state as a whole.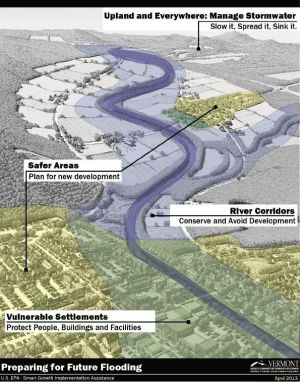 Links to sections below:
There are many resources available here on Flood Ready Vermont to help your community become flood resilient. Become familiar with the opportunities; examine the situation where you are, and identify the policies and strategies that will make a difference.
The watershed graphic above was developed in 2013 as part of the EPA and ACCD supported work in the Mad River Valley on Disaster Recovery and Long-Term Resilience Planning in Vermont.
 
What can we do to promote flood resilience?
Protect river corridors and the areas that help moderate flooding by adopting bylaws with No Adverse Impact standards;
Direct new capital improvements and development to safer areas;
Prepare for the emergency. Create or update your flood response plan;
Insure residual risk through the Emergency Relief and Assistance Fund (ERAF) and access to flood insurance.
The goals and elements of municipal development plans are established in Vermont State Statute 24 VSA Chapter 117. Plans are valid for eight years and communities must have a municipal development plan in effect to adopt, amend or enforce any regulatory or non-regulatory tools.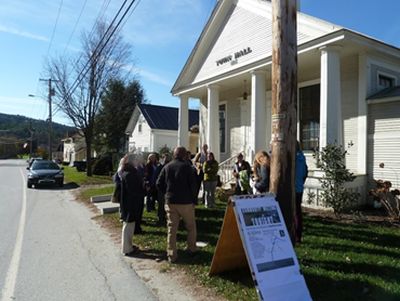 The goals for development in Vermont §4302 are established to coordinate the efforts of municipalities, regions, and state agencies. The specific components of a municipal plan are identified in §4382. The elements of a regional plan are described in §4348a.
One new element that you may need for your plan is the Flood Resilience Element (required for plans adopted after 7/1/2014). Check with your Regional Planning Commision regarding other changes. After the legislative session ends in May the Vermont Statutes Online may not be updated until the fall.
Of note, in the 2013-14 sessions the Legislature adopted language requiring municipal plans to describe (if appropriate) how a request for a designated Downtown, Village Center or New Town Center will support your plan.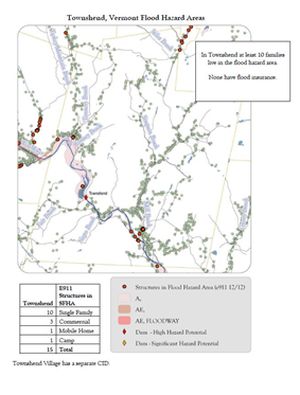 The process of writing or amending a municipal plan is primarily directed by the Planning Commission. After a draft is prepared the Planning Commission holds one or more hearings before voting to approve it and report it to the Select Board. The Select Board also holds one or more hearings and votes. The Essentials of Land Use Planning and Regulation p.28 and the other resources below have more detail on the process.
Many communities work with professional planners from their Regional Planning Commission or with consulting planners to amend their municipal plan. This work can be supported in part by Municipal Planning Grants through the Department of Housing and Community Development in ACCD. As you work on your plan this is also a good time to be in contact with other community planners on the Flood Resilience Listserve.
Chapter 117 of Vermont statutes identifies the public process to update and amend the plan for a municipality. The process is also clearly described in resources published by the Vermont Planning Information Center (VPIC) and the Agency of Commerce and Community Development (ACCD).
You can check to see the last municipal plan amendment date on the Expanded Community Report. Municipal Plans are valid for eight years. The update process can vary depending on how much work is to be done and the availability of funding and support. Be sure that you coordinate with your Regional Planning Commission. A plan update schedule that is not hurried can allow for a more engaging learning opportunity for the whole community.
Your plan also informs the Municipal Capital Program and Budget, and can underscore the community's need for access to post-disaster funds including Federal Public Assistance (PA) and the Vermont Emergency Relief and Assistance Fund (ERAF). Check your community's ERAF status here.
Adaptation and mitigation are the two pillars of resilience, and focusing on both is the challenge of our times. - Brian Shupe, Executive Director, Vermont Natural Resources Council
Vermont communities that are updating their municipal plans are also incorporating flood resilience elements for the first time too. Not every community is the same size or faces the same problems – and yet we have a lot to learn from each other.
Here are some resources to stay in touch: