We want our families, investments and buildings to be safe, and we don't want to increase the risk to other structures. Locating new structures in the hazard area isn't a good choice.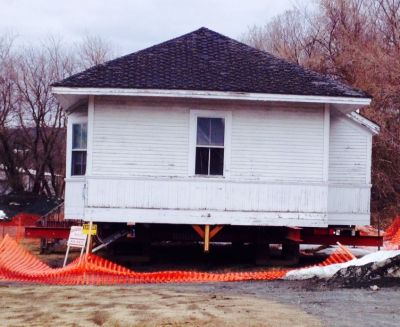 However, when we have an existing structure in the hazard area we have to wrestle with how to do the best with the situation at hand. Sometimes the structure can be moved to a safer site and the river corridor and floodplain can be restored and put to a safer use. Sometimes the structure can be modified sufficiently to help protect its purpose and values by elevating and anchoring it.
Links to sections below:
There are about ten thousand buildings in Vermont that occur in Special Flood Hazard Areas. Some of these buildings are in high velocity Floodways and exposed to multiple hazards. Other buildings, outside the mapped high risk flood zone, may nonetheless suffer damage from erosion and flooding. The inundation maps can be a very helpful starting point but they do not represent the entire risk of damage during flood events in Vermont.
Few people want to live in a hazard area. Most public buildings and critical facilities will be accessible, safe and functional in an emergency if they are located outside the hazard area. Use the Community Reports page to find out the situation in your community. How many structures and public buildings occur in the high risk flood zone?
If the report indicates public buildings and critical structures at risk, you can contact VT ANR or use the Flood Ready Atlas to identify these structures. Some important facilities may be just outside the mapped hazard area but nonetheless may be damaged from erosion and/or inundation. Review your community's own list of critical facilities and functions in town. Are they currently affected by known flood hazards? Can parents access the school without crossing flood hazard areas or bridges that may be overtopped? Where are structures affected by multiple known hazards?
"Colchester has historically maintained advanced floodplain regulations however many of our seasonal camps predate these regulations. The 2011 flood hit these camps hard but requirements for floodproofing substantially damaged structures has made Colchester more resilient as we rebuild and look to the future."
-Sarah Hadd, Director of Planning & Zoning for the Town of Colchester.
If a building is close to a stream, river, or lake, use the maps of flood zones and river corridor plans where available, to understand more about the setting and what has been studied at that site.
For buildings in the Special Flood Hazard Area the flood insurance rate is determined by factors such as the flood zone, the value of the building, the presence of a basement, and the elevation of the bottom floor. The flood risk information is compiled in an Elevation Certificate. Publically-owned buildings and critical facilities in flood hazard areas could also benefit from getting an Elevation Certificate.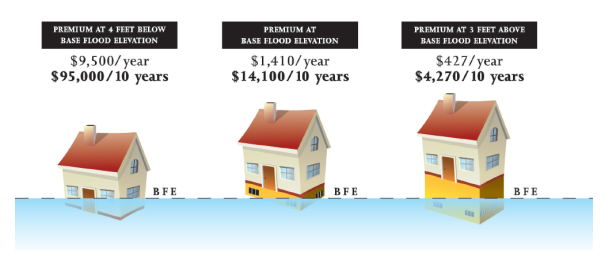 Critical facilities and other buildings serving the public are needed during and after an emergency. This is not a good time for the phones and power to fail and the services to stop.
Consider:
Will the building be accessible and usable during and after an emergency?
Are there important or irreplaceable services, communications, equipment, legal records or archival material that shouldn't be on premises?
Will heat, water and electrical systems in the basement or below the flood level fail and need replacement?
Last minute desperate attempts to protect or salvage the building and its contents could take up a large amount of town staff and volunteer capacity when it is needed for others;
Finished spaces (walls, flooring, built-in elements) could be damaged;
Planning, funding, designing, and contracting to restore or relocate the structure works best when there is time to weigh options and schedule the work.
FloodSmart.gov has a short presentation on building damage from minor flooding.
Of the thirty-eight educational sites – are any of these also identified as emergency shelters?
What services and buildings are critical to your community – particularly during or after a natural disaster?
 
The erosive power of moving water causes the most damage during floods in Vermont. For pre-existing buildings bank stabilization measures can be designed and attempted. Unfortunately efforts to stabilize a bank in one place may redirect the water and energy at neighboring sites. It is important to implement a project that makes sense in the context of the river reach, supports geomorphic equilibrium and is more likely to work for longer. More information on river management.
With regards to damage from inundation the risk is partially expressed as the cost of flood insurance. The higher the bottom floor of the building is raised above the base flood – the less likely will be a claim for damage and the less costly will be the insurance.
FEMA has a simple "Cheaper Flood Insurance" brochure describing the options in basic terms.
Relocate the building out of the hazard area.
Elevate the bottom floor of the building.
Elevate the utilities (electric, heat etc.)
Change the basement (hole in the ground) into an above-grade level crawl space.
Provide vents for flood water to enter and leave the crawl space.
In New England older buildings often have basements where utilities are placed. This adds a great deal of risk to the building and a great deal of cost to the flood insurance.
There are many guidance and technical documents available to identify ways to elevate and anchor buildings to prevent damage. As you explore options remember:
A structural mitigation project (modifying a structure) needs to consider:
Get advice from people who have done similar work. A FloodSafe Listserve has been set up so you can find others doing the same work.
Regional Planning Commissions, VLCT, ANR and a number of communities have Certified Floodplain Managers who may be able to help you identify how you can reduce the risk for your structure.
Critical Facilities
Reducing Flood Effects in Critical Facilities
Risk Management Series Design Guide for Improving Critical Facility Safety from Flooding and High Winds Residential Structures
Residential Structures
FEMA Protecting Your Home and Property From Flood Damage; Oct 2010
TRORC Fact Sheet 4: Using Freeboard and Setbacks to Reduce Risk
FEMA P-312, Homeowner's Guide to Retrofitting Second Edition (2009)
FEMA 551 Selecting Appropriate Mitigation Measures for Floodprone Structures March 2007
FEMA P-347, Above the Flood: Elevating your Floodprone House (2000)
Protecting Building Utilities From Flood Damage FEMA P-348, Edition 1 / November 1999
Property Owner's Guide To Re-Building For Flood Resiliency February 2014, Peg Elmer, AICP, www.Community-Resilience.org (also addresses the situation of buildings outside of the mapped hazard zones)
Historic Structures
Treatment of Flood-Damaged Older and Historic Buildings, National Trust for Historic Buildings
Floodplain Management Bulletin Historic Structures FEMA P-467-2 May 2008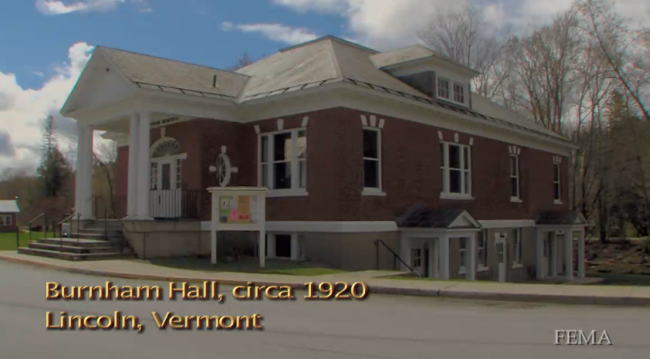 FEMA video about historic structures and mitigation including Burnham Hall in Lincoln, Vermont