Funding is available both to help reduce your risk of damage and to recover from disasters. Communities may want to work with a planner from the Regional Planning Commission to help identify and secure funds for planning, mitigation, restoration, and recovery.
Links to sections below:
Video: 
Homeowner Buyouts and Elevating Homes
Zoning Administrators Michelle Braun in Northfield, and Clare Rock in Richmond, discuss how they used FEMA Hazard Mitigation Assistance funds to elevate or acquire and remove structures in the Special Flood Hazard Area. This 6 minute video was produced by Riverbank Media for the Connecticut River Conservancy (CRC).
Every grant source has specific criteria, but whatever you are pursuing be sure that it aligns with your community's goals and plans. Identify all the reasons to do (and potentially fund) what's needed.
FEMA Grants require the community to have an approved Local Hazard Mitigation Plan. The Hazard Mitigation Grant Program (HMGP) will fund the preparation of a Local Hazard Mitigation Plan.
Municipal Planning Grants require the community to have an approved Municipal Plan. MPG grants will also fund the preparation of a municipal plan.
Has your community planned ahead? Get an Expanded Community Report.
Links to Funding Sources
Municipal Capital Program and Budget
Vermont Emergency Relief and Assistance Fund (ERAF)
ACCD Funding and Incentives
ACCD Municipal Planning Grants (MPG)
ACCD – Community Development Grant Block Program (CDBG - DR) – Disaster Recovery
ACCD – Strong Communities
Vermont Division of Forestry Urban and Community Forestry Program – Grants
Vermont ANR Grants and Loans Summary
Vermont DEC Funding Opportunities
Vermont DEC Water Quality Grant Opportunities
Vermont Clean Water Initiative Funds
Water Infrastructure Financing Programs
Drinking Water State Revolving Loan Fund (DWSRF) - provides low cost loan financing to municipal and privately owned public water systems for capital improvements that improve public health protection and facilitate compliance with the Safe Drinking Water Act.
Clean Water State Revolving Fund (CWSRF) provides loans for Climate Readiness as it pertains to wastewater and stormwater infrastructure.  This can include planning, design, and construction to mitigate effects from flooding (in advance of the event).
The EPA has developed a Climate Ready Water Utilities Tool that is helpful for all types of water utilities.
Federal Funding Opportunities for Flood Resilience: A Guide for Small Cities American Flood Coalition 4.2020
Town Highway Bridge Program
Town Highway Structures and Class 2 Roadway Programs
State Aid for Town Highways
Town Highway Disaster Assistance
Equipment Loans
VTrans – Better Roads Program Grants
Connecticut River Conservancy's  "crowd-funding" website CleanWaterFuture.org (CRWC)
Connecticut River Mitigation and Enhancement Fund
Association of Vermont Conservation Commissions - "Tiny Grant" Program
Important Opportunity: FEMA Hazard Mitigation Funds
Under a recent change in policy FEMA will now accept proposals for acquisition or elevation of structures in the Special Flood Hazard Area without a past history of damage.
FEMA Flood Mitigation Assistance Grants (FMA) 
FEMA Hazard Mitigation Assistance Program Digest (May 2014)
FEMA FY 2014 Hazard Mitigation Assistance Grants (HMA)
Vermont - FEMA Hazard Mitigation Grants Program (HMGP)
Environmental Protection Agency: Grants and Other Funding Opportunities
Vermont Fish and Wildlife - Community Wildlife Program
US Fish and Wildlife Service Grants-At-A-Glance
National Park Service Rivers, Trails, and Conservation Assistance Program
USDA Rural Development - Community Facilities Direct Loan & Grant Program
Several sources of funding may become available after a disaster. The most important support is Public Assistance (PA) funding administered by FEMA after a federally-declared disaster. PA funding will cover 75% of qualified damage to public assets such as roads and culverts. The Vermont Emergency Relief and Assistance Fund (ERAF) supplements the federal funds. For disasters after October 23, 2014, the State of Vermont will contribute an additional 7.5% toward the costs. For communities that take specific steps to reduce flood damage the State will contribute 12.5% or 17.5% of the total cost.
Current Federal Disaster Declarations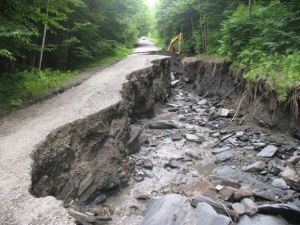 (Identify if Public or Individual Assistance is available)
Federal Disaster Process & Disaster Aid Programs
Federal Public Assistance – (FEMA PA)
Vermont Emergency Relief and Assistance Fund (ERAF)
Federal Individual and Households Assistance – (FEMA IHA)
Vermont - FEMA Hazard Mitigation Grants Program (HMGP)
Community Development Opportunities - ACCD 
Community Development Block Grants - Disaster Relief ACCD
Vermont Community Foundation Available Grants
Flood Resources for Residents, Businesses, Non-Profits, Farms, and Towns VCF (7/2012)
Vermont Disaster Relief Fund 
Vermont Local Long-Term Recovery Committees
Long-Term Recovery Committee Resources 
Flood Smart www.floodsmart.gov  FEMA flood insurance information
Increased Cost of Compliance Coverage (ICC) NFIP
Craft Emergency Relief Fund / Artists Emergency Resources (CERF)
Property And Casualty Intermunicipal Fund (PACIF) VLCT
Please let us know.
Also please see recent posts on
Vermont Floodplain Management Blog 
Vermont League of Cities and Towns Events