Six communities in Vermont participate in the FEMA Community Rating System (CRS) and together save $76,142 per year on flood insurance premiums.
CRS, a National Flood Insurance program, rewards communities that take significant steps to bend the curve and reduce flood damage.  By selecting, and acting, on specific flood management steps, communities can get discounts of five percent (Class 9), or deeper.  Two communities in Vermont, Brattleboro and Colchester are currently Class 8, and flood insurance policy holders there, get discounts of ten percent off their premiums.
FEMA Region 1 Floodplain Management Specialist Karl Anderson, visited Berlin and Brattleboro on August 24.  Karl Anderson presented the municipal officials with plaques acknowledging their important work to reduce the costs of damage by flooding.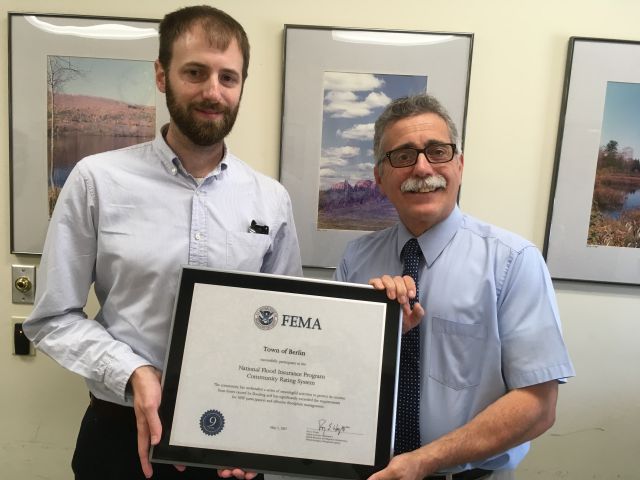 Above: Karl Anderson, FEMA presenting Berlin Town Administrator Dana Hadley with a wall plaque acknowledging the community's work  through CRS.
In Vermont, the CRS communities are: Bennington, Berlin, Brattleboro, Colchester, Montpelier, and Waterbury (both the Town and Village).   You can find a CRS Insurance Savings Report on www.FloodReady.vt.gov
Nationally, most flood insurance policy holders are in CRS communities and have discounted policies.  Follow this link for more information on the Community Rating System.
CRS is often administered by counties in locations with a high number, or percentage, of flood insurance policies.  For information about buildings in the Special Flood Hazard Area, and the percentage uninsured, please see the Expanded Community Report for your community at Flood Ready Vermont.
For more information about CRS in Vermont contact Rebecca Pfeiffer at rebecca.pfeiffer@vermont.gov