In this section, we allow you to take what you have learned so far and consider the guiding questions listed below. We hope that this section prompts you to consider the relevance of related topics in your community.
Links to sections below:
The Flood Ready Vermont Community Report has estimated the number of structures in your community that are within the high risk flood hazard area. The report also includes an estimate of how many structures have insurance for damage by flooding. Most residents of buildings in high risk flood hazard areas do not have flood insurance. Of those that do - many are under-insured.  
The report from EPA's EJA Mapper can give you a snapshot of your community. Who is not "at the table" of community information and decision-making?  Who has limited mobility, time, resources and capacities for safer options?
A house destroyed by Tropical Storm Irene sits in Rochester, Vt., in 2011. (John Curran/AP)
Residents on Fixed-Incomes or Earning a Lower-Income:
Residents of your community who may be on a fixed income or earning a lower income may face several barriers to reducing flood risk or have fewer options available for responding to flood events. Given the high yearly cost of flood insurance and that the cost continues to increase over time, many residents who may not have as much income are less likely to have flood insurance through FEMA's National Flood Insurance Program (NFIP). Additionally, residents who have lower incomes may have greater difficulty accessing funding for recovery or pre-disaster mitigation, as well as have a harder time finding alternative safe housing that is located outside of a flood hazard area. FEMA's own data has shown major flaws in access to post-disaster recovery funds.
Read this National Public Radio (NPR) article to learn about a recent investigation highlighting these inequities and the harmful implications they have within different communities.
"Put another way, after a disaster, rich people get richer and poor people get poorer. And federal disaster spending appears to exacerbate that wealth inequality." "How Federal Disaster Money Favors the Rich", Rebecca Hersher and Robert Benincasa
Persons With No Prior Knowledge of How to Determine a Property's Flood Risk:
About one-third of U.S. States do not have any statutory or regulatory requirements in place that require sellers to disclose flood risk or past flooding of a property to potential buyers or renters. Vermont is one of these states. Because of this, people that are looking for housing in Vermont are at a serious disadvantage when it comes to knowledge of potential flood risk. This lack of knowledge of flood risk could easily translate into fewer people choosing to purchase flood insurance through the NFIP (National Flood Insurance Program), and in turn create extreme post-disaster financial difficulty in the event of a flood.
In addition, many people are unfamiliar with the potential impact that fluvial erosion and flooding within river corridors could have on their property, and may even be unaware if a river corridor intersects their property at all. Learn more about river corridors here.
Check out this mapping tool created by the Natural Resources Defense Council (NRDC) to view how U.S. state's flood disclosure regulations compare.
 
Black, Indigenous, and People of Color (BIPOC):
From 2019 to 2020, the average life expectancy of Black and Hispanic people dropped up to three times as much as Non-Hispanic white males and females. This was a result of the COVID-19 pandemic, and was exacerbated by pre-existing social vulnerability ((Centers for Disease Control and Prevention, 2021).  All too often, BIPOC residents face increased vulnerability to health hazards like illness or flooding due to racist policies, such as redlining (a practice that corralled people of color into more marginal, dangerous, and risky locations), that perpetuate inequities. The harmful effects of redlining are still felt today, as areas with higher flood risk often have higher proportions of non-white residents. For example, in both Hurricane Harvey and Hurricane Katrina, the areas that experienced the most flood damage were mainly African American neighborhoods. Listen to The Atlantic's award winning podcast, Floodlines, which explores the societal failures that took place before, during, and after Hurricane Katrina hit.
Statistically, people of color are also less likely to have health insurance. This adds to the importance of understanding the relative flood risk of BIPOC residents in your community in order to protect the health of underserved populations as such.
Read this article to learn more about flood risk in Black neighborhoods.
Persons With Limited English Proficiency:
For persons with limited English proficiency, many educational resources that are available to the general public to teach about flooding and minimizing flood risk may be inaccessible due to language barriers. As a community, it is important to find ways to provide adequate information and risk communication to all community members, including those with limited English proficiency. 
Check out this webinar presented by FEMA that provides case studies and discusses the importance of utilizing materials accessible to non-English speakers when it comes to risk communication and education.
Photo by: N Swanberg
 
Residents Who Live in Rental Units:
According to the U.S. Census, nearly 30% of housing units in Vermont are renter-occupied. In the face of a disaster such as flooding, renters often face disproportionate harm. Not only are renters forced to move after a disaster more often than homeowners, but the average rent often increases as contract workers looking to do repair work and people who can no longer reside in their homes search for a place to live (Frazee, 2019). Beyond this, it is often significantly more difficult for renters (and even more specifically, BIPOC renters) to recover from disaster than it is for homeowners. This could be due to lower amounts of accumulated savings (wealth); the costs of displacement for food, housing, and transportation; loss of family cohesion, work time, and social support; inadequate insurance coverage for flood damage; increased barriers to finding and securing new housing; or simply the unscheduled stress of recovering from disaster. Additionally, FEMA post-disaster funding is often delayed until long after the need first arises and may be an inadequate amount. Renters must be considered when planning for disaster mitigation and recovery in order ensure that anyone who rents housing is not put at an unfair risk.
Persons Living in Manufactured Homes:
Across the country, migrant workers account for around half of all dairy workers (Adcock, Anderson & Rosson, 2015). In Vermont, it is estimated that there are 1200-1500 migrant farm workers in the state. This is important because, unfortunately, in the post-disaster recovery context, people who lack documents required for legal immigration are often hesitant to seek government assistance due to fear of being deported (National Association for the Advancement of Colored People, 2018). Whether it is due to lack of flood insurance through the National Flood Insurance Program (NFIP), inadequate health coverage, or anything else tied to the fear of deportation, individuals who are undocumented often experience disproportionate suffering.
Individuals Who Are Undocumented:
Across the country, migrant workers account for around half of all dairy workers (Adcock, Anderson, and Rosson, 2015). In Vermont, a state where agriculture plays a major role in the economy, this statistic is extremely important to acknowledge. Unfortunately, in the post-disaster recovery context, people who lack documents required for legal immigration are often hesitant to seek government assistance due to fear of being deported (NAACP). Whether it is due to lack of flood insurance through the National Flood Insurance Program (NFIP), inadequate health coverage, or anything else tied to the fear of deportation, these people often experience disproportionate suffering.
All too often, individuals who are undocumented are "invisible" in the eyes of the government, public policy, and other important law-making entities. These people have essentially no voice in their own livelihood due to legalities. In order to protect both the people living in our communities, and the economy of Vermont, it is important to consider how you can plan and enact policies that protect all people from flood hazards.
Check out this story to learn about one undocumented migrant dairy worker in Vermont.
The groups listed above are by no means a complete summary of all people who may face disproportionate risks due to flooding. This compilation is simply meant to begin the conversation and get you thinking about how to care for your whole community by addressing the individual needs of people with a variety of different backgrounds.
This question addresses a key issue when it comes to the intersection of environmental justice and floodplain management. People are centric to this issue: people choose to develop land, and development affects people. In order to help plan for the safety of all residents living in and near the floodplain, we support a No Adverse Impact approach to floodplain management, which seeks to balance the economic impact of new development with the well-being of residents and other development that already exists in the community. While this may mean minimizing the chance that a new development will push their flood water onto their neighbor's property, it can also mean trying to ensure that the natural floodplain functions are not lost.
Undeveloped floodplains provide a plethora of beneficial functions including reduction of erosion and damage downstream, as well as aid in slowing speeds of floodwaters by absorbing water. Click here to learn more!
New developments that take place within the floodplain have the potential of impacting many more people beyond those simply choosing to develop the land. When people choose to develop floodplains, they divert the risk of flooding onto others. As a Nature.com article writes, "Affluent homeowners, for example, can choose to fill in and raise their lots, modifying the topography and pushing water towards the properties of low-income renters who cannot afford to live elsewhere" (Hino & Nance, 2021). In some places compensatory flood storage is required when any new development or addition of fill causes a reduction in flood storage area to prevent adverse impact on other community members. Click here to learn more about the concept of "No Adverse Impact."
NO ADVERSE IMPACT: "The actions of one property owner should not adversely impact the rights of other property owners."
In order to adequately protect your community and all people living within, it is key that you consider the implications of all floodplain development on flood risk for all groups of people.
Hearing from as many residents as possible early on in the planning process is imperative when considering how to move forward with plans and policies that have the best interests of all residents in mind. All people's experiences can provide helpful insight, which is why the U.S. Water Alliance recommends honoring "lived experience, academic information, and technical expertise." Overall, community engagement and public participation are key aspects of effective planning and disaster mitigation and considering all aspects of how to increase meeting participation.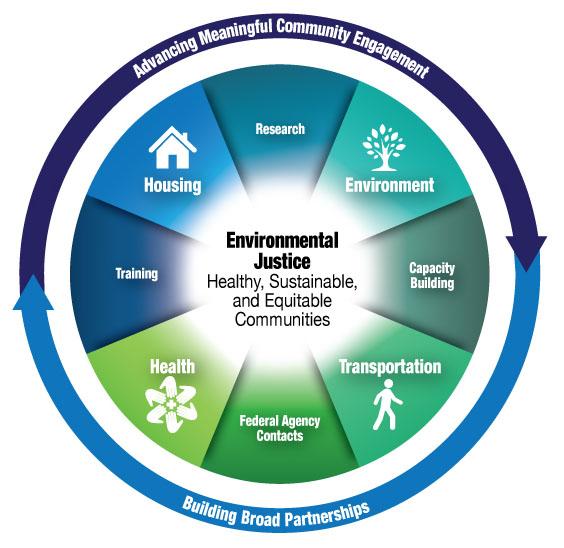 EPA graphic
When are meetings held? Does the timing of meetings make it difficult for certain groups to attend (people with full-time jobs, people with young children, people who work evenings, etc.)?
Consider providing childcare services at meetings for those who would not be able to attend otherwise. Another option is to offer healthy meal options or even a stipend (to compensate people for taking the time to attend meetings) to encourage attendance.
Where are meetings located? Does this make it difficult for those without personal vehicles to attend?
You may be able to provide ways for interested residents to participate outside of the traditional meeting setting.
How are meetings publicized? Are any groups of people left out because they do not know about meetings?
Consider taking a comprehensive approach to publicizing meetings by making use of a wide variety of methods to get the word out (ex. social media, flyers, Front Porch Forum, emails). This ensures that people of various backgrounds are likely to gain knowledge of the meeting from at least one source.
It can be extremely challenging to find a time and place that works well for all people. Life can be busy and people will have conflicts. We are not asking you to seek perfection because in this case it may not be possible. However, we do ask that you think about what you have learned throughout this module and apply that as best as possible to your community. Your entire community stands to benefit if you work towards creating a space where a diverse array of voices and concerns feel invited to be heard. No matter what their background may be, nearly all residents share the common goal of strengthening your community. 
As climate change progresses and weather patterns evolve, the northeastern United States will continue to experience more precipitation during large rainfalls. This will lead to greater flash flooding and the potential for flood events to become more common or widespread. In order to mitigate potential harm as natural disasters become more common, people on the local level are responsible for creating and enacting policies and regulations that stand to protect the well-being of all. 
People are at the heart of all environmental justice issues. Whether someone is unaware that they are at risk of flood hazards, or they know they are at risk but are unable to protect themselves adequately from potential harm, the decisions that the community makes can help support all community members. Governing bodies are in place to ensure that all people have a safe space to live.
The benefits of utilizing a more inclusive community input process span far and wide. Not only is comprehensive community engagement advantageous after the fact, but coming The benefits of utilizing a more inclusive community input process span far and wide. Not only is comprehensive community engagement advantageous after the fact, but coming together as a community where all people feel welcome and heard has value during the process as well.
 
Some key benefits to encouraging inclusion and community input include:
Solutions that are more widely accepted

More effective solutions

Increased understanding of issues for residents

Greater trust in community and government and enhanced ability to work together

Space for people to find common-ground and strengthen the community
 
Check out this toolkit created by PennState for more information on community engagement.